Recommended Stamps for Important Holidays:Christmas Postage Stamps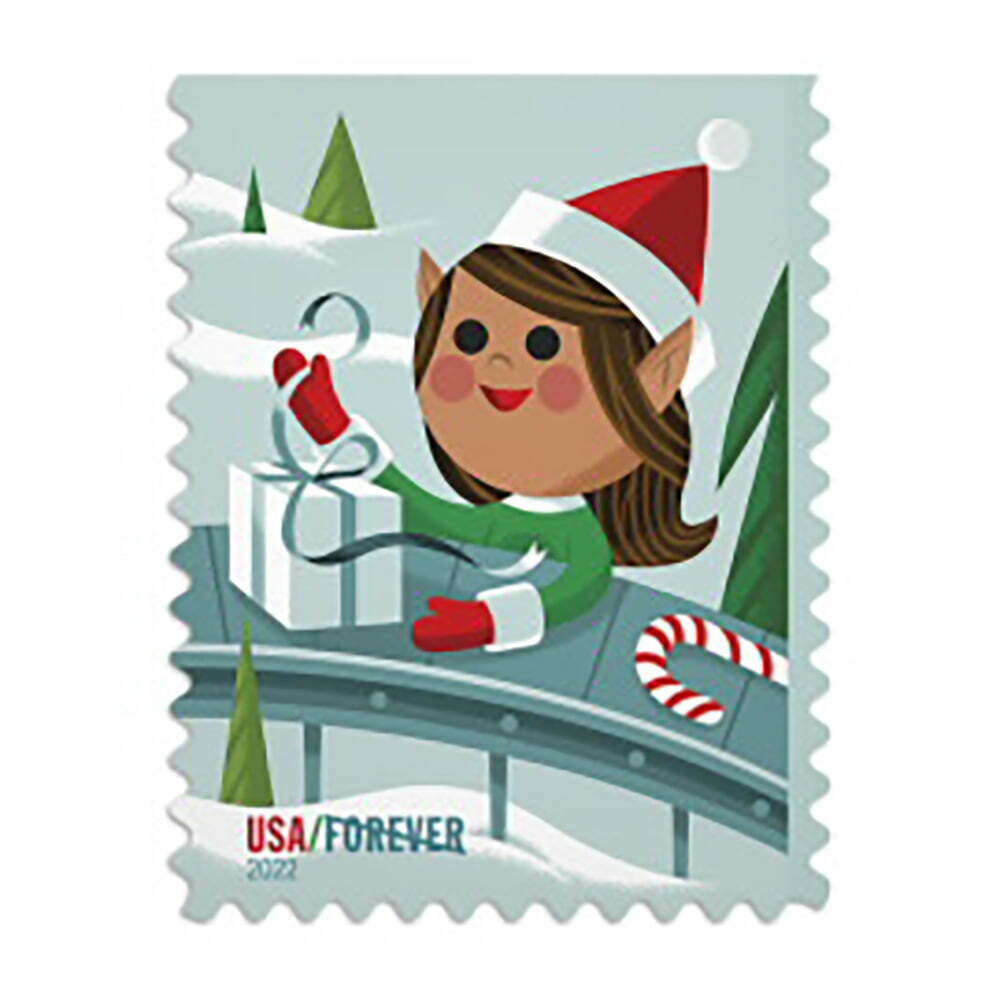 Recommended Stamps for Important Holidays:Christmas Postage Stamps
What comes to your mind when mentioning the word "Holiday"? For me, it's snow, Santa Claus, family, postcards, light balls, and Christmas postage stamps.
When Christmas is coming, I used to write Christmas postcards to my friends and family members who live far away from me. Just like what Ruth Carter said "Christmas is mostly truly Christmas when we celebrate it by giving the light of love to those who need it most." During the preparation of postcards, my favorite part is to select an exquisite Christmas postage stamp with beautiful patterns on it for everyone. Let me share with you my favorite Christmas postage stamp.
Santa Claus Postage Stamp
What's your favorite thing about Christmas? For me, Santa Claus is always my favorite for Christmas, although I have already known that Santa Claus is just a legendary character who is generally played by my dad.
Santa Claus, or Saint Nicholas, Saint Nick, Father Christmas or just Santa, is a lovel, good-tempered grandpa. He loves kids and always wishes them the best. So, therefore, every year, he reviews kids' performance carefully.
If kids behave well, he will bring them gifts on Christmas Eve. If kids play naughty, Santa Claus won't bring anything to them. That's how my parents told me when I was young. My parents also told me that my performance would be reviewed by then since Santa is too busy to review every kid.  
As Christmas Eve draw near, my parents usually assigned me a lot of housework to do and said for now they were busy working on the annual review of my performance. Well, as a kid who wanted to receive gifts, I will do everything they want me to do, literally, everything.
Looking back on all these ridiculous sayings, I just want to say, how sneaky my parents are!
Back to the Christmas stamps, my favorite sets of Christmas postage stamps are Chrare Sparkling Holidays Stamps – 2018 USPS Forever Stamps and the A Visit From St. Nick Stamps.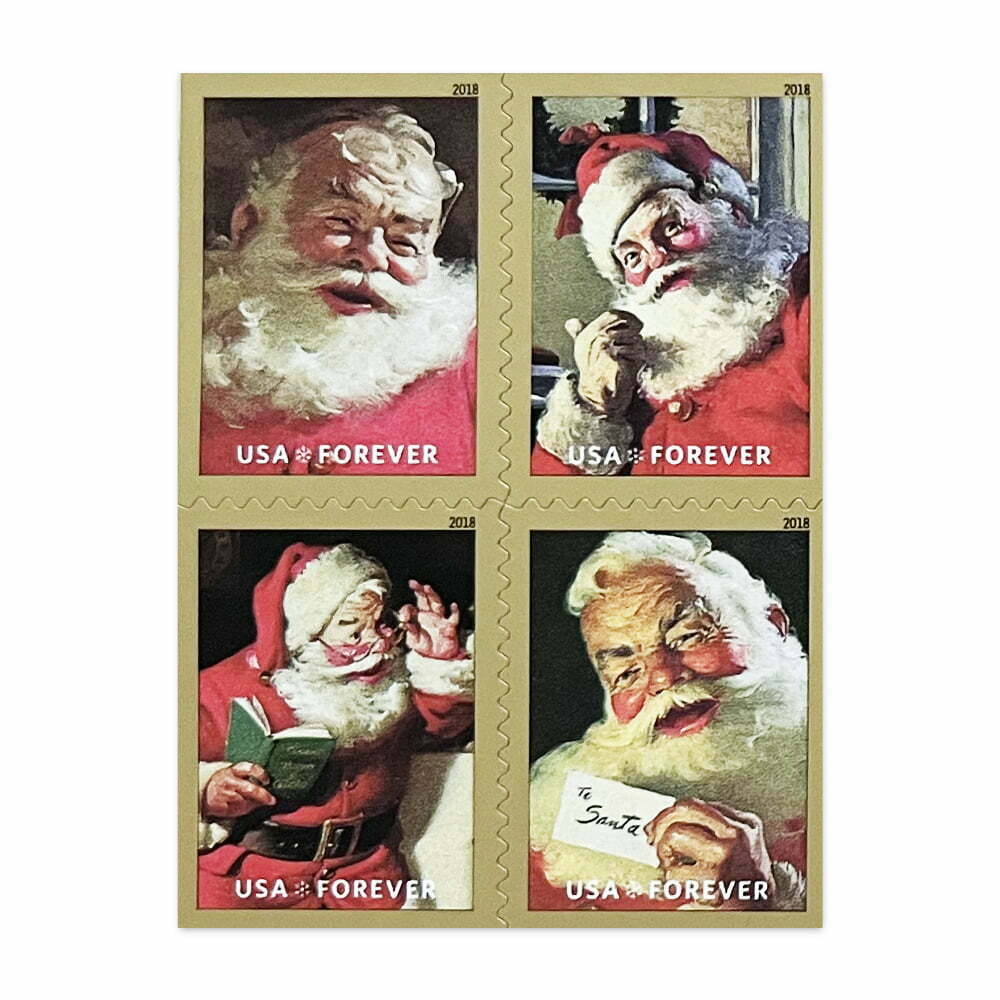 The Santa Claus wearing a lovely smile can always remind me of my dad.  I remember one time when I decided to find out what Santa looks like. Does he look the same as what the comic books describe, an old man wearing a velvety red coat with a white collar and cuffs?  
 At 11:30 pm, when I nearly fell asleep, Santa sneaked into my bedroom and place something near my closet. I squinted and saw Santa, who looked exactly like Santa on the stamps, wearing a velvet red coat, white collar and cuffs, and a sly smile! Then I realized Santa Claus was actually my dad.
Consequently, every Christmas I will send postcards with these Santa postage stamps stuck to my parents. I bet they know that these are not just normal Santa postage stamps, especially when seeing the smile of this Santa. How about you? Did your parents play Sant Claus when you were young?  Try to send these Santa postage stamps to them and see how their react.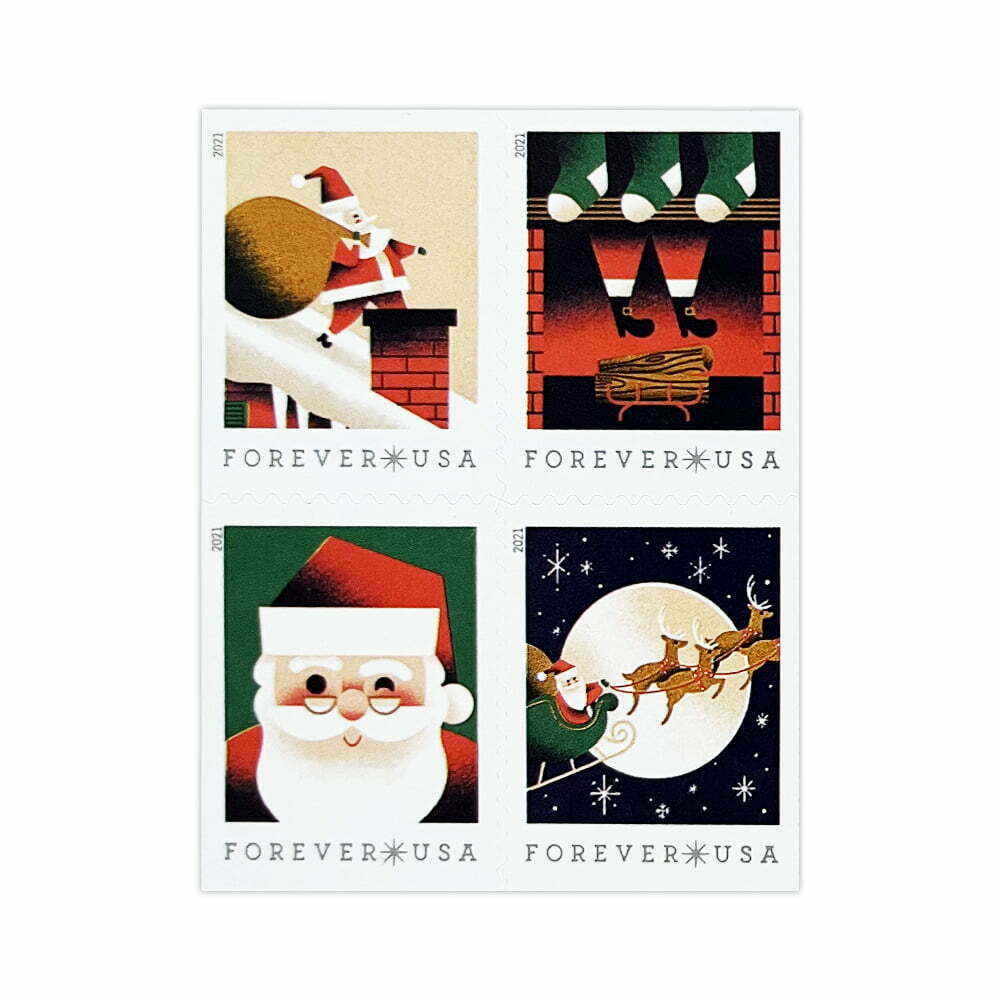 And for the kids I will select a cuter set – A Visit from St. Nick Stamps. Well, this is the Santa who is drawn in the fairy tale books, cute and funny.
And these Santa Claus postage stamps are extremely suitable for little kids. Every time I send to my 8-year-old nephew, my sister said he would put them into his little gift box, trying to show his sincerity to the Santa.
 In addition to my favorite adorable Santa postage stamps, I will send them to my family. For friends, I would choose a different style of stamp. Here are some stamps that I think will be suitable for friends to send postcards for Christmas greetings.
Nativity Postage Stamp
Being the basis for Christmas, nativity plays a vital role in the Christian liturgical culture. Many of my friends celebrate the birth of Jesus in church on Christmas Day. For these friends, I will send them postcards with Nativity postage stamps. Let the past remain. There is always a fresh beginning after Christmas!
Snowflake Postage Stamp
It always snows at Christmas. Imagine, as Christmas approaches, that snow has covered the roads and trees of the countryside, and the light of dawn is gently streaming through the trees. Everything was white, pure and peaceful. There is nothing like a beautiful winter scene with snowflakes in the air. While snowing is flying outside the window, inside the room there are warm lights, hot wine and colorful Christmas tree hanging little lamps.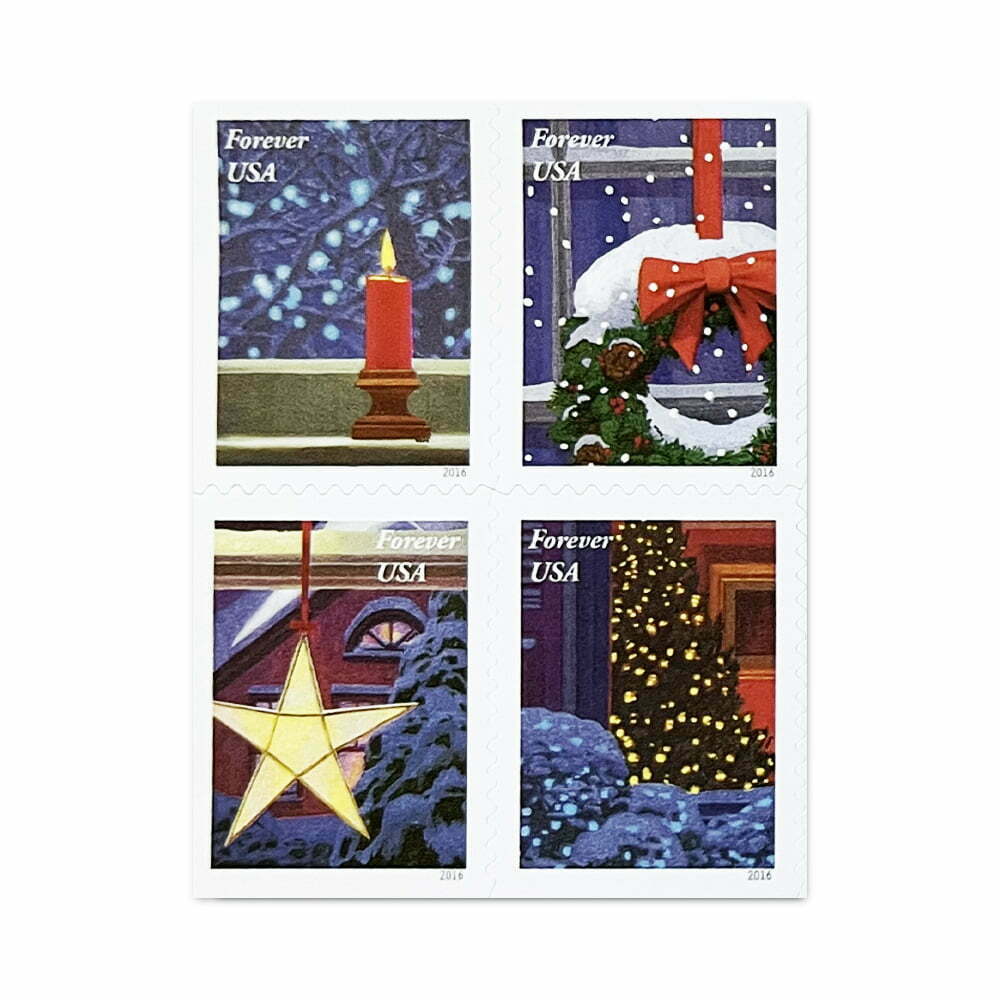 For keeping the atmosphere of Christmas, I found out these sets of stamps –Holiday Windows Stamps–2016 USPS Forever Stamps.
These snowflakes postage stamps have taken my heart at the first glance because of their Christmas atmosphere.
Candles and snow, warm and cold
Red and white, passionate and quiet
Light balls shinning on the Christmas tree
Kissing couples under Mistletoe
Imediately, I thought of a romantic story.
 So, these sets of stamps can be sent to anyone who loves Christmas. They are so poetic that I can't help come up with the words of John J. Geddes
 "Freshly cut Christmas trees smelling of stars and snow and pine resin—inhale deeply and fill your soul with wintry night"
Even just for stamps collection, I would keep them for sentimental reasons.
Winter Scenes Postage Stamp
The last one I want to recommend is the winter scenes postage stamp. These kits aren't just for Christmas, they can be used for any occasion you want. Generally, I will send some winter scenes postage stamps with postcard to my friends and family. Beauty is worth sharing, right?
Where to buy these Christmas postage stamps?
Yo
u can
have
 a vis
it to the forever stamp store online and select whatever
you want. All of stamps in this article are available in forever store. If you like them, you can take all of them home at once.
Buy Christmas postage stamps and send them out before Christmas. Let your love and joy spread! 
References: