Flag Postage Stamps: Miniature Art that Embodies the American Spirit of Pursuing Freedom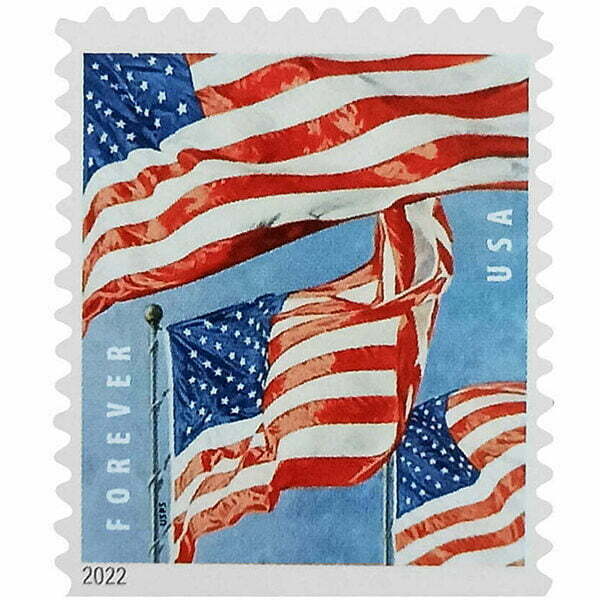 Flag Postage Stamps: Miniature Art that Embodies the American Spirit of Pursuing Freedom
Nowadays, it is impossible to imagine life without postage stamps. As a work of art that embodies the wisdom and careful efforts of many famous artists and designers, the stamps silently tell the story through images and reflect the changes of the times. Among them, the flag postage stamp is a typical representative.
Why issue a Flag Postage Stamp?
I think it is a masterpiece in miniature, always reminding and demonstrating American pride. As a small piece of paper, with or without a value, issued by a post office, postal administration, or other authorized provider to customers who pay postage, stamps were once one of the most important mediums for communicating information in people's lives. Even in today's sophisticated communication technology, it still plays an important role in sending thank you cards, vacation cards, or wedding invitations.
The American flag, as one of the symbols of the strength and spirit of the United States, must be preserved at all times. In addition to designating June 14 as Flag Day, the design of the stamps with the American flag as an important element reemphasizes the importance of its status.
The Postal Service says, "The U.S. Flag Forever stamp celebrates our nation's most recognizable symbol. It has flown proudly in war and peace, at home and abroad, and on the surface of the moon."
Besides the value of Flag Postage Stamps, there is more you should know about it
People will always wonder: what is the value of the American flag stamp? Beginning with the Lady Liberty and U.S. Flag stamps issued Sept. 14, 2011, the flag stamps are issued as Forever stamps that never expire and always have the same value as the current First-Class Mail price for an ounce.
Forever stamps were introduced by the United States Postal Service (USPS) in 2007 to offset rising postage costs. Because they are marked non-denominational from the beginning, Forever stamps in good condition can continue to be used no matter how much postage costs increase later.
Forever U.S. Postage First Class stamps usually feature vivid photographs of the American flag against a sky background. The national flag and the words "USA" and "FOREVER" are the main elements on the Flag Forever stamp.
Why Flag Stamps Are Miniature Artistic Displays of the American Spirit?
First of all, let us talk about what American Spirit means. The word "Spirit" comes from the Latin word for "breath." As we all know, life ceases without breath, whether it is the life of a person or a nation.
In the early days of the nation, when the U.S. Constitution was created, the Founding Fathers planted the genes for a nation that would be just and ensure the "blessings of liberty." They dreamed of a nation based on liberty, equality, and justice. There may be different definitions of the American spirit, but it must be acknowledged that this powerful invisible force supports and unites every American at every difficult moment, whether in the terrorist attacks of September 11 or in the face of Hurricane Katrina.
President Woodrow Wilson said, "This flag, which we honor and under which we serve, is the emblem of our unity, our power, our thought, and our purpose as a nation. It has no other character than that which we give it from generation to generation.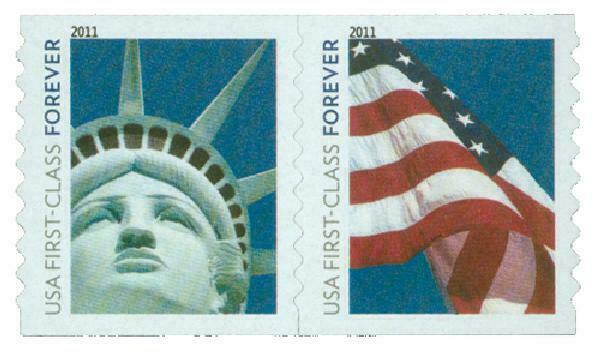 The American flag and the Statue of Liberty have always been beacons of hope for the American people. Americans see them as symbols of freedom and peace in all circumstances, for better or for worse. And they serve as spiritual pillars, especially in the darkest hours, as a source of strength for the American people.
The Statue of Liberty, a symbol of American freedom, was a gift from France designed by Auguste Bartholdi (1834-1904), and has watched over New York Harbor since its dedication on October 28, 1886. Just as many disaster movies now want to show, when the United States is devastated by this disaster, there will be a scene in which the Statue of Liberty is destroyed.
In addition to this series of flag stamps, both the Lady Liberty and US Flag stamps are First Class Forever stamps. The USPS has also issued a series of flag stamps that combine the two designs.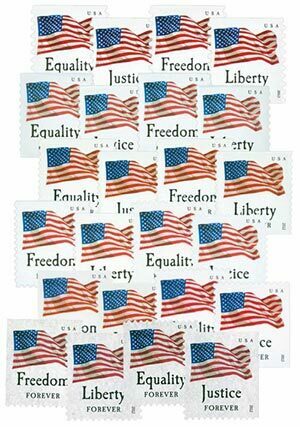 U.S. Flags: Equality, Justice, Freedom, and Liberty
This U.S. flag stamp features four flag images with the English words "freedom," "liberty," "equality," and "justice," which represent the core values of democratic political systems, including that of the United States.
Although the design of the stamp looks plain and simple, the prayers and meanings contained in these words are a stronger expression of the American people's desire to build an equal and harmonious society in the face of racial problems, terrorism and other social problems that arise in an endless stream.
Are American flag stamps still good?
All unstamped U.S. flag stamps may still be used for postage. The fire of faith and hope in the pursuit of freedom will not easily be extinguished. Just like the national flag, the stamp can play its value forever at any time.
Sometimes people see the flag upside down, a signal defined as distress in a situation where life or property is in extreme danger, which is not illegal. People worry, however, if the stamps are stuck upside down on the envelopes, it will affect their utility value. However, you can be sure that this is not the case. There is also a saying that upside-down stamps are also a form of declaration of love.
Where I can buy and How many flag stamps do I need?
You can first divide the postage price by the price of a Flag Forever stamp. For example, if your postage cost is $2.4, you would divide 2.4 by 0.6 to get 4. So you would need 4 stamps.
If you want to know where to buy flag stamps, I recommend Forever Stamp Store (foreverstampstore.com) and Delivery Stamp (deliverystamp.com) in addition to USPS.com. Here you can buy many old stamps that are no longer displayed on USPS.com, and you can also get your favorite stamps at a lower price. Why not actually?