Halloween Stamps: Yes, You Can Also Buy Them To Spice Up 2022 Halloween(update in 2022)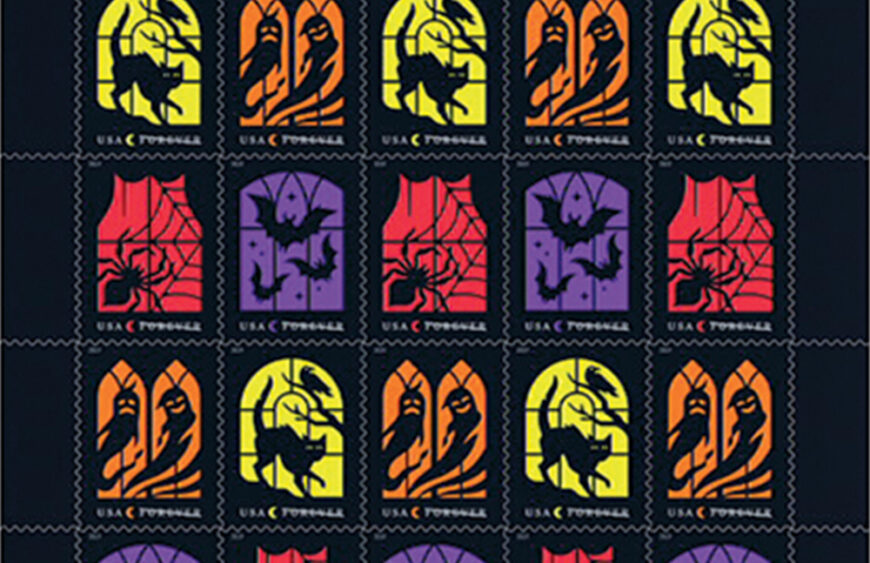 Halloween Stamps: Yes, You Can Also Buy Them To Spice Up 2022 Halloween(update in 2022)
When it comes to Halloween, people always think of pranks, parties, costumes, and trick-or-treating ways to celebrate Halloween. In addition to this, People also often carve faces out of pumpkins.
So many people buy Halloween decorations, costumes, props, and accessories from Spirit Halloween. But in 2022, would you like to make Halloween different? Besides the difference between different characters in cosplay, you may also buy some Halloween stamps and send your friends a special Halloween card to spend Halloween happier。
What is Halloween?
Halloween is a vacation celebrated on October 31, one day before the Christian feast of All Saints' Day or All Hallows, ushering in the season of Allhallowtide. In much of Europe and North America, Halloween is largely celebrated in a non-religious manner. In the eighth century, Pope Gregory III designated November 1 as a day to honor all the saints. Soon All Saints' Day incorporated some of the traditions of Samhain. The eve became known as All Hallows Eve and later as Halloween. By the 20th century, Halloween had become one of the most important holidays in the United States, especially among children.
How Halloween is usually celebrated
The origins of Halloween can be traced back to the ancient Celtic festival of Samhain (pronounced sow-in). On this day, people light bonfires and wear costumes to exorcise evil spirits. Over time, Halloween evolved into a day of events like trick-or-treating, carving pumpkin faces, holiday parties, dressing up, and snacking. Interestingly, a quarter of all candy sold in the United States each year is bought for Halloween.
In just two months, it'll be Halloween (October 31), and I suspect there are many people who don't know that Halloween-themed stamps are also available. PS feels that people need a special stamp for this holiday.
The first Halloween-themed stamp in the United States appeared in 1974, the 10¢ commemorative Legends of Sleepy Hollow (Scott 1548). This stamp was issued just in time for use on Halloween mail. The stamp depicts a scene from Washington Irving's famous folktale, "The Legend of Sleepy Hollow," in which poor Ichabod Crane, the fearful schoolteacher, is pursued by the dreaded Headless Horseman.
The Classic Movie Monsters stamp was issued in 1997, and movie monsters are often an inspiration for Halloween costumes. The Classic Movie Monsters set includes stamps featuring Frankenstein, the Mummy, the Wolf Man, Dracula, and the Phantom of the Opera.
And the U.S. Postal Service kicked off the 2016 Halloween festivities by issuing Jack-o'-lanterns Forever Stamps, Round Eyes, and Four Teeth. at Anoka City Hall Plaza. Anoka is known as the "Halloween Capital of the World." The sheet of 20 stamps features four different photos of jack-o'-lanterns carved by Paul Montanari and photographed by Sally Andersen-Bruce. The stamps were designed by art director Derry Noyes.
The Spooky Silhouettes stamps were issued in 2019. The Spooky Silhouettes stamps feature digital illustrations of Halloween themes depicted as black silhouettes in eerily lit windows. From the USPS website: The Postal Service issues four Forever stamps in time for Halloween. The Spooky Silhouettes stamps feature digital illustrations of Halloween themes depicted as black silhouettes in eerily lit windows. The images include a cat with a curved back and a raven sitting on a bare branch, all against a yellowish-green background; two ghosts against an orange background; a spider and web against a red background; and three bats against a purple background.
Halloween Forever stamps Spooky Silhouette can also add to the holiday atmosphere
As fall approaches, these Halloween stamps feature fun, spooky scenes that symbolize Halloween. With customs and traditions that vary widely by community, Halloween today inspires parades and carnivals, corn mazes, haunted houses, neighborhood and school festivals, pumpkin festivals, and even pumpkin slinging. Halloween remains a long-awaited celebration of the macabre as winter approaches. If you have not found them at your local post office, you can get them online. They are pretty much always available online at the u.s.ps website or other sites. Because the Jack-o-lanterns are Forever Stamps, you can buy them not only to send Halloween cards, but also to combine Halloween and Christmas.
In addition to the United States, Halloween-themed stamps have been issued around the world. Canada, France, Belgium, Austria, etc. Most of the designs on these stamps include elements such as skulls, jack-o'-lanterns, witches, potion bottles, and bats. Most of them are depicted as cartoon characters. If you do not want to go through too much effort to decorate your house on Halloween and hang too many creepy cobwebs and skulls, you can buy a sheet of them to frame and hang on the wall. Even this will not diminish the Halloween decorations.
Thanks to the power of imagination and creativity, Halloween now inspires parades and carnivals, corn mazes and haunted houses, community and school festivals, jack-o'-lantern and pumpkin festivals, and even pumpkin catapults. Regardless of how or where people celebrate this ever-changing vacation, Halloween remains a highly anticipated celebration.
Although it is generally thought that stamps are pasted into an ordinary mail or invitations or carefully kept by collectors in their stamp-collecting albums, they are taken out and played with at leisure. But I think putting these beautifully designed and festive stamps into photo frames and hanging them on the wall as photos is a good wall decoration to make our life more interesting. Or try to make Halloween stamps into Halloween decorations in 2022.