Love Stamps: Another romantic expression of love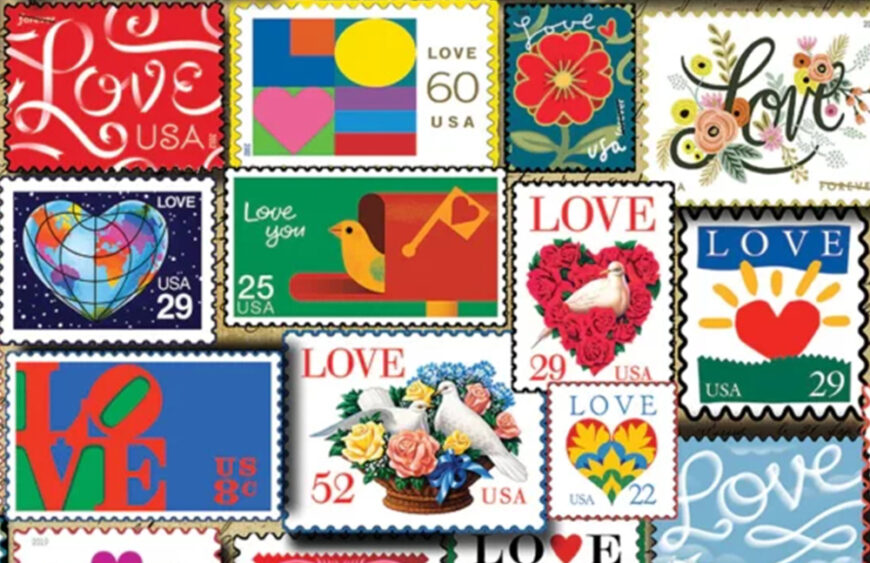 Love Stamps: Another romantic expression of love
Since 1973, the Postal Service has celebrated love with love stamps featuring multifarious and gorgeous designs. Our daily life is always full of frivolous things, loaded with trivial details. We do need something to feel love, to convey love. A bouquet of flowers, a  postcard with the love stamp, can remind us that we are surrounded by love, to remind us that love is so very grand.
What is the Love stamp?
The USPS unveiled the Love stamp series in 1973. Designed by multiple famous artists, the Love Forever stamp is always featuring colorful and bright designs, using a playful approach to illustrating the word love. According to USPS, There are millions of reasons to say "I love you" and various ways to show your care. Using the Love stamp to mail someone who you love is a special way. To declare your affection, friendship, gratitude, or devotion is to send a card to a loved one or friend.
Who created the Love stamp and What year did the Love stamp come out?
Artist Robert Indiana, a pop artist, designed This
first LOVE stamp
in January 1973. In keeping with the theme, it was released in Philadelphia, "The City of Brotherly Love." The first love stamp design featured Indiana's LOVE sculpture, which is designed the slanting of the "O" as to have the negative space forming a "V" in between the letters,  consisting of four simple letters built in steel and standing at its home on the grounds of the Indianapolis Museum of Art since 1970.On occasion, the USPS did not anticipate people's love for love-themed stamps and had no plans to establish a series of love stamps. Along with that, the Postal Service issues newly designed LOVE stamps almost every year. Since then, love stamps have generally been issued in January, before Valentine's Day on February 14, so the public will associate it with that celebration holiday and buy the newly issued love stamps to stick on letters or greeting cards filled with love, it has even become a traditional activity.
What is the value of Love stamp?
For the first time ever, issued in 2011, Love Series: Garden of Love is the first Love stamp with 'Forever' as First-Class
Forever Stamp
at 44¢. According to the USPS, this Forever stamp will always be equal in value to the current First-Class Mail® one-ounce price. Because the Love stamps feature designs filled with roses, swans, ribbons and, yes, plenty of hearts, 'celebrating every splendor of that magnificent thing,' you can also use them as a wedding stamp. Like the ninth issue of the Love Series stamp, it's very popular for use on wedding invitations, Valentines, and other love-type letters.
Small history about mindblowing artwork-the Love stamp
According to William Gicker, "We consider stamps to be miniature works of art," the Postal Service's manager of stamp development. Let's take a close look at the love stamp, a work of art that embodies the painstaking efforts and talents of many artists.
Designed by American pop artist Robert Indiana, this love stamp was issued for special occasions uses, such as weddings or valentines. In harmony with its theme, it was unveiled in Philadelphia, "The City of Brotherly Love." It is the first issue in the popular "Love" series.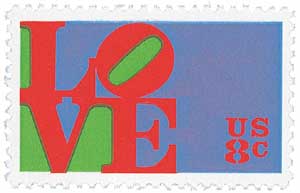 Nine years later, the second love stamp, 20c Love Series: Love Flowers, was issued in 1982. In response to public demand for a new "Love" stamp, it was designed by artist Mary Faulconer of New York City. It was unveiled in Boston, MA. Faulconer used flowers to give a greater feeling to the love theme.
In 1984, a new design of the love stamp, 20c Love Series: Love with Hearts, was released. Hearts replaced the letter V, designed by Bradbury Thompson, and he oversaw the Love series since its start. It was unveiled in Washington, DC.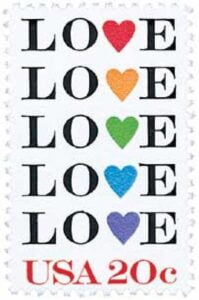 Artwork by Sister Corita Kent, 22c Love Series: Love Crayon was released on April 17, 1985. Unveiled in Hollywood, CA, this colorful stamp was the first Love stamp to be issued after Valentine's Day. Although it is a commemorative stamp, The U.S. Postal Service reasoned the stamps could be used all year.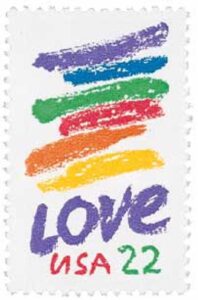 On January 30, 1986,22c Love Series: Puppy as 1986's love stamp was issued in New York. this love stamp featuring a bright-eyed, floppy tailed, cuddly puppy serves to remind us what cartoonist Charles Schultz wrote, "Happiness is a warm puppy." Design by Saul Mandel, an illustrator, artist, animator and graphic designer in the advertising field.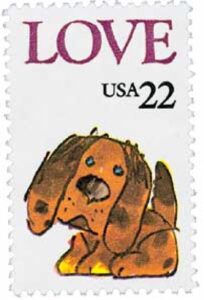 The sixth love stamp in the series,22c Love Series: Hearts and Flowers, was issued on January 30, 1987, in San Francisco. The special point is the size of the stamp is smaller than the large Love commemoratives of the past.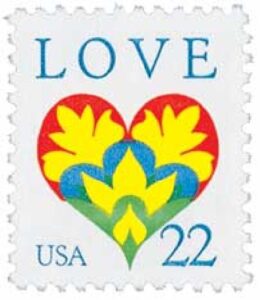 Design by Richard Sheaff, 1988's love stamps are the first love set with a second ounce denomination for wedding invitations. Coming up with a rose, a 25¢ stamp for letters weighing up to one ounce, and a 45¢ stamp (below) for heavier wedding invitations and large greeting cards.25c Love Series: Pink Rose love stamp was issued on July 4, 1988, in Pasadena, CA and the 45c Love Series: Pink and Yellow Roses love stamp was released on July 8, 1988, in Shreveport, LA.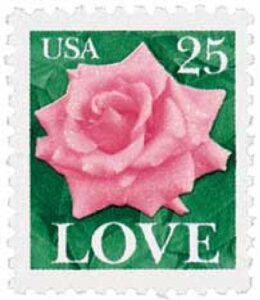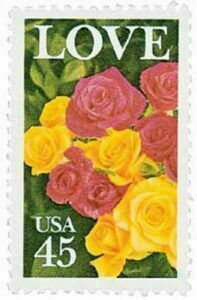 It is worth mentioning that, as the "LOVE" stamp became more and more popular, by the1980s, it was issued in more quantities and longer than any other regular US commemorative coin.
The ninth issue of the love stamp,25c Love Series: Love Birds, was the first love stamp issued in sheets and a booklet. Design by Jane Hertko, featuring the Love Birds, they were produced in both sheet and booklet form in 1990.
In addition to expressing a person's direct love, artists sometimes create art based on current events. The 29-cent love stamp from 1991 is the best illustration – the earth is in the shape of a heart. In light of the war in the Persian Gulf, most Americans believe that "all the world needs now is love…" The corresponding 52-cent first-class Love stamp shows a pair of colorful Fisher's Lovebirds cuddling on a palm frond.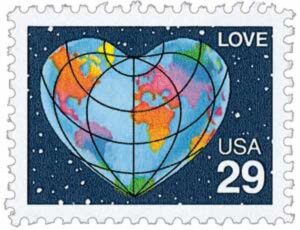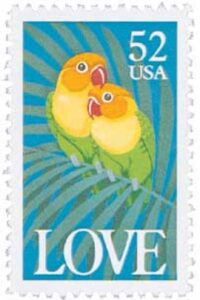 The culture of writing love letters has existed for hundreds of years. Electronic messages are most ordinary today. Handwritten letters are even more special now than they have ever been. If you have not yet mailed your Valentine's greetings this year, go to the nearest post office and purchase the LOVE stamps. These stamps will add lingering charm and colorful illustrations to your message.